NEWS
Thai Legendary Songkran
To cultivate gratitude to the benefactors and ex-grandparents, to promote the arts and culture. Also the good tradition of the nation. The event will be held on between 6 - 8 April 2018, from 14.00 to 21.00 at the royal court, Dusit Palace and Tiger Field. Visit the exhibition of Songkran tradition. There is a place for people to water bless the adults in the family. Visit the exhibition of Songkran tradition. Participate Sand Pagoda Competition for The Royal Shield. The plaque displaying the "Thalsing Phra Maha Songkran", which consists of various cultural performances.
Inviting ypo to join Thai dress, polite dress, flowers shirt. For shorts, spagette shirt, sexy dress, water gun and powder are not permitted in the event.
Thailand Golf Expo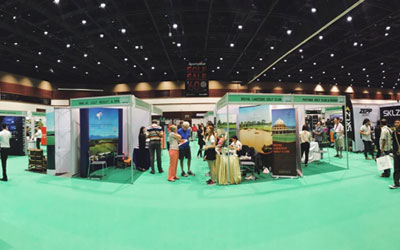 Stunning golf courses and golf resorts throughout the Kingdom.

Golfing today thus expands its market coverage to include every age-range from youngsters to seniors. Therefore this year, N.C.C. Exhibition Organizer Co., Ltd. (NEO), strongly supported by Tourism Authority of Thailand (TAT) announces the exhibition for comprehensive range of golf products, services and destinations under "Thailand Golf Expo" to help boosting tourism in Thailand. The show not only supports the cabinet's policy to make Thailand as a hub of exhibition in golfing and golf-related products/services, but also encourages trading atmosphere through business matching, in which TAT will be inviting over 200 regional traders to the show, aiming to develop it to be the biggest exhibition for golfers in Asia. The event will be held on 10 May - 13 May 2018.
Safety is our top concern!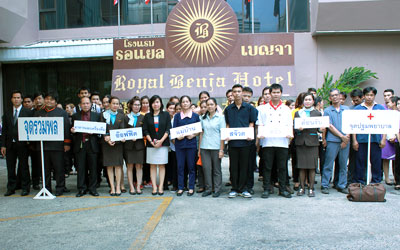 To ensure that Hotel's safety system and procedure work well and staff has professionally trained to handle emergency cases, experienced firefighters from Office of Disaster Prevention and Mitigation were invited to lead the fire training simulation including evacuation drills and rescue operations on June 10, 2016, at Royal Benja Hotel Bangkok.
Authentic Thai Food on Songkran Day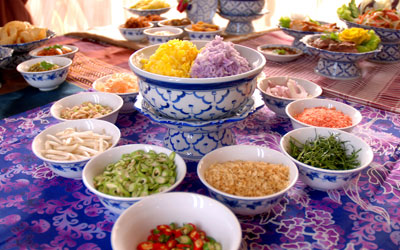 Once a year for authentic Thai food from 4 regions on Songkran Day, 13 April 2016, as Benjamas Restaurant, Royal Benja Hotel Bangkok, presents popular dishes from northern, central, north-eastern and southern parts of Thailand, with delectable spicy items in lunch buffet from 11:00 a.m.- 2:30 p.m. at the cost of 400 baht.
For reservations and more information, please call 02-655-2920-53 ext 4114
Khao Chae Promotion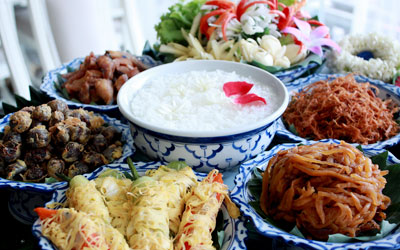 Keep cool this summer with royal Thai cuisine 'Khao Chae', rice soaked in jasmine scented water and topped with ice, served with complex side dishes in a classic way at Benjamas Restaurant, Royal Benja Hotel Bangkok,in daily lunch buffet from 1-15 April 2016, at the cost of 354 baht nett/person.
For reservations and more information, please call 02-655-2920-53 ext 4114
IFDC International Workshop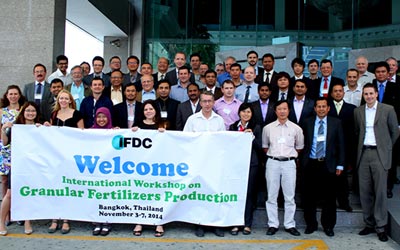 Mr. Ramón Lazo de la Vega (3rd row, 1st from left), senior engineer and program leader, fertilizer technology program, and Miss Luisa De Faría (2nd row, 1st from left), senior specialist – engineering of International Fertilizer Development Center (IFDC) organized the annual international workshop in Thailand on "Granular Fertilizers Production" to share knowledge among representatives from various countries during 3-7 November,2014 at Royal Benja Hotel Bangkok.
Warm Welcome to Great Pianists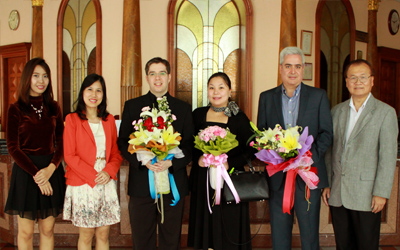 Prof. Juan Pablo Horcasitas (2nd from right), Dr. Edward Neeman (4th from right) and Dr. Stephanie Neeman (3rd from right), great pianists from USA, were warmly welcomed on July 21st, 2014 by Nawarat Thamrongvithavatpong (2nd from left), Marketing Communications Director of Royal Benja Hotel Bangkok as they came to Thailand to be the jury members of Thailand 4th Mozart International Piano Competition 2014 and perform piano recital at Yamaha Music School Ratchadapisek. The performance will start at 7 p.m. on July 23, 2014 and is hosted by Mongkol Chayasirisobhon (1st from right) from DM Music Studio.
Kokiet Group World Boxing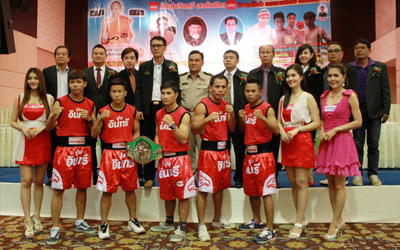 Royal Benja Hotel was one of sponsors for the press conference of "World Boxing Festival" held by Mr.Kokiet Panichayarom, President of Kokiet Group, at Convention Hall today. The championship will be held at the temporary boxing ring, Wat Tako, Phra Nakhon Si Ayutthaya on August 29, 2014 and broadcast live on TV-3 channel at 1.55 - 3.55 p.m. For more information, Please visit www.kokietgroup.com / or www.facebook.com/KokietGroupWorldBoxing