NEWS
Warm Welcome to Brilliant Pianist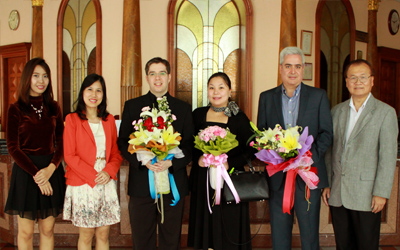 Mr. Robert Saterlee (middle), a versatile solo recitalist and chamber musician in the United States was warmly welcomed by Pornpatra Hantrakul (2nd from right), Royal Benja Hotel's executive assistant manager, Nawarat Thamrongvithavatpong (2nd from left), director of marketing communications and Wannalak Jaiboon (1st from left), marketing communications executive as he came to Thailand to perform a solo piano recital at Goethe Institut on March 25, 2014. The program was hosted by Mr. Mongkol Chayasirisobhon (1st from right) from DM Music Studio.
Safety comes first!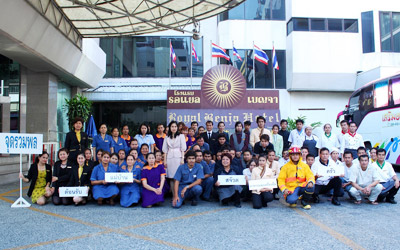 Royal Benja Hotel Bangkok organized an annual fire drill to train all staff to encourage fire safety in hotel and practice fire drill in case of accident, with training specialist Pol.lt.col. Kongkharn Chantapreeda, Chief of Fire Prevention & Planning Section on February 18, 2014.
Kokiet Group pushes Muay Thai to Laos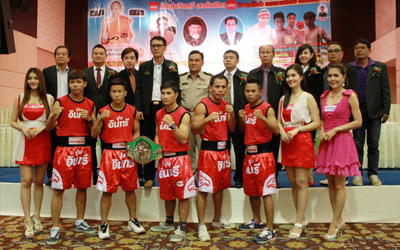 Mr. Kokiet Panichayarom, president of Kokiet Group Co.,Ltd. and the WBC Asia promoter of the year, together with Mr. Mike Gore, General Manager of Savan Vegas Hotel & Casino hosted "World Boxing Council Asia and World Boxing Council Muaythai Press Conference 2014" at Convention Hall, Royal Benja Hotel Bangkok on February 17, 2014. The competition will be held at a temporary boxing ring, Savan Vegas Hotel & Casino, Savannakhet, Laos P.D.R. on February 21, 2014.
Amnesty Thailand Media Awards 2013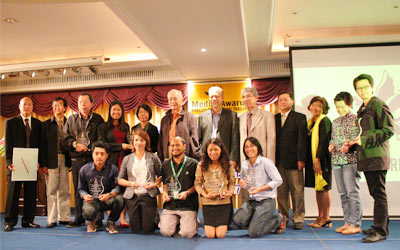 Mr.Anand Panyarachun (standing 6th from right), Former Prime Minister of Thailand was the chairman of Media Awards 2013 held by Amnesty International Thailand, with media professional and public speaker Dr.Somkiat Onwimon (standing 5th from left), invited as honorable guest speaker giving a speech in the topic of "The role of media to developing a culture of human rights" at Benjarong Ballroom, Royal Benja Hotel Bangkok on January 23, 2014.
Congratulations to a new wedding couple!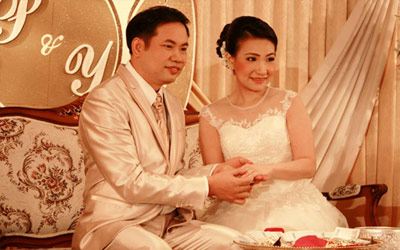 It's our pleasure and many congratulations to Ms.Pornipa Chotdee and Mr.Yutthasilp Techachaiwiwat for their engagement and wedding celebrations in modern Thai-Chinese theme with all decorations in gold and pink at Benjarong Ballroom on November 3, 2013.
Congratulations to a new wedding couple! Love is all around in the wedding reception of Khun Pinpanee Kaewkangwan and Khun Metanee Pimol, in sweet pink theme and towering cake with flowers at Benjarong Ballroom on November 2, 2013.