NEWS
IFDC International Workshop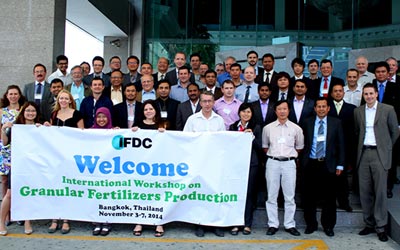 Mr. Ramón Lazo de la Vega (3rd row, 1st from left), senior engineer and program leader, fertilizer technology program, and Miss Luisa De Faría (2nd row, 1st from left), senior specialist – engineering of International Fertilizer Development Center (IFDC) organized the annual international workshop in Thailand on "Granular Fertilizers Production" to share knowledge among representatives from various countries during 3-7 November,2014 at Royal Benja Hotel Bangkok.
Warm Welcome to Great Pianists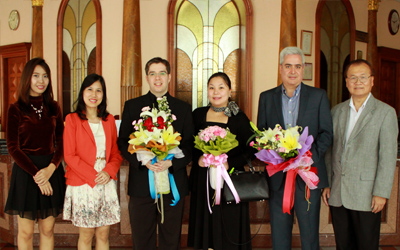 Prof. Juan Pablo Horcasitas (2nd from right), Dr. Edward Neeman (4th from right) and Dr. Stephanie Neeman (3rd from right), great pianists from USA, were warmly welcomed on July 21st, 2014 by Nawarat Thamrongvithavatpong (2nd from left), Marketing Communications Director of Royal Benja Hotel Bangkok as they came to Thailand to be the jury members of Thailand 4th Mozart International Piano Competition 2014 and perform piano recital at Yamaha Music School Ratchadapisek. The performance will start at 7 p.m. on July 23, 2014 and is hosted by Mongkol Chayasirisobhon (1st from right) from DM Music Studio.
Kokiet Group World Boxing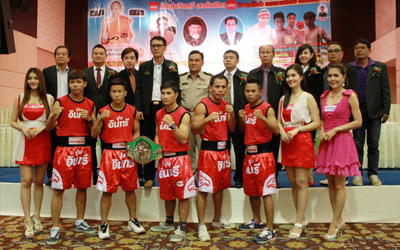 Royal Benja Hotel was one of sponsors for the press conference of "World Boxing Festival" held by Mr.Kokiet Panichayarom, President of Kokiet Group, at Convention Hall today. The championship will be held at the temporary boxing ring, Wat Tako, Phra Nakhon Si Ayutthaya on August 29, 2014 and broadcast live on TV-3 channel at 1.55 - 3.55 p.m. For more information, Please visit www.kokietgroup.com / or www.facebook.com/KokietGroupWorldBoxing